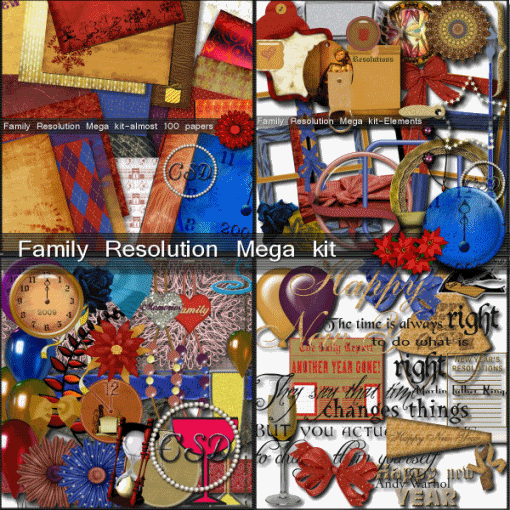 MEGA KIT FREE WITH PURCHASE OF $7US
CSD's Designers have proudly contributed to this Mega Kit with a "New Year's Resolutions" theme. You can get this kit FREE by just spending $7.00 on a single order (not including coupons and gift certificates).
Resolutions:
Those little promises that you make to yourself each year but don't necessarily keep. Here's a way to keep you and your family on track with those promises. Took TIME as a theme for new years family resolutions. Spend more quality time with our loved ones, take more time for what matters, be on time, smile more, love more And show that you care...There's a lot to do, so you name it, your choice. With this wonderful collab kit you will be able to color that resolutions, to honored last years and embrace new ones.
Mega features over 60 papers and over 110 Elements. See description for more details HERE

Here some previews of my part to the mega kit!
2 WORD ART
2 DECO BRADS
2 DECO DOODLES
1 FOLDED RIBBON
1 FRAME
1 DECO JOURNAL
1 DECO SAND CLOCK
1 RIBBON
1 VINTAGE TAG
6 PAPERS