This is going to be a long post with lots of images, but it's worth it I think! I just love my new kit
Solitude
and hope will too!! Just released EXCLUSIVE at
coolscrapdigital
! Seperate the products would be $10, but the full bundle (paperpack, elementpack, full alpha, wordartpack and CU glittergelpack) are only $6.50!
Solitude is a pagekit in beautiful sober colors
of greys, browns and teals,
that remind of misty mornings over lonely isles,
of upcoming autumn,
of finding peace and balance
in finding ourselves again,
a little bit of Zen perhaps,
for those moments when we seek silence,
quietness and solitude.
The full bundle
14 papers [8 patterned and 6 solids]
54 elements
6 wordarts
6 matching [CU] glittergels
full alpha (uppercase, lowercase, numbers and symbols)
Element list:
2 large bark pieces
a bead spill
a small bow
a brad
a stone buddha
2 butterflies
2 buttons
1 cloud
1 dirt spill
a dragonfly
an old fence
a ammonite flair
2 flowerflairs
5 craft flowers
1 flower bead string
1 flowerclip
2 dry branches
2 green foliage
1 flower foliage
1 fantasy babybreath
a round frame
3 grungy old frames
a vintage journal card
a waterdrop leaf
an origami paperbird
7 pebbles
3 flat ribbons
1 curly ribbon
1 swirl ribbon
1 ammonite shell
2 doodle swirls
2 tags
Here are some sample layouts of my wonderful CT, thank you girls!
(
link to the gallery
if you want to leave them some love!)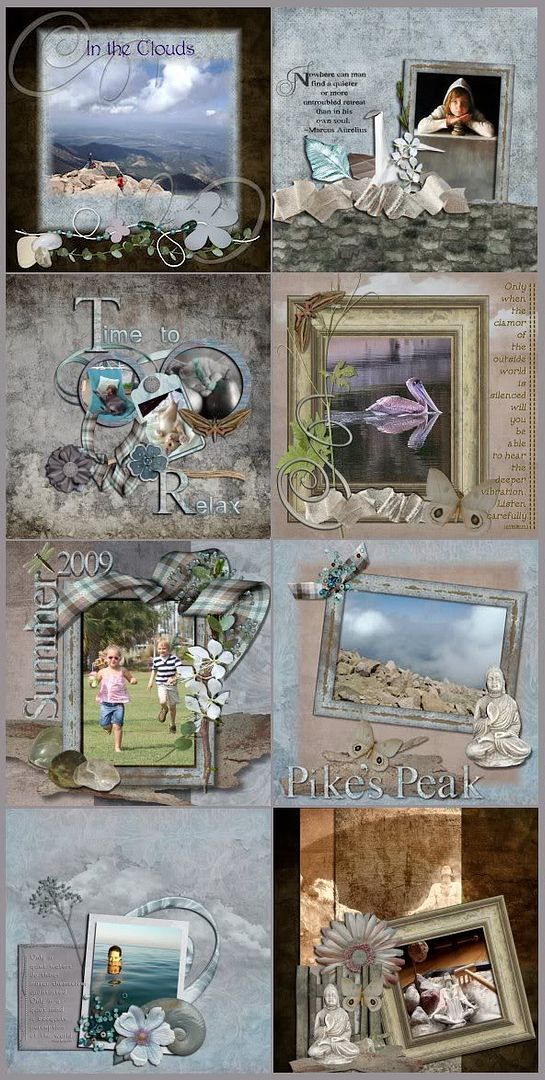 Here is a layout
with yours truely :)
and another with Sarai.
These gorgeous layouts
are by Michal and you can download the quickpage at
her blog
!
Here is the matching add-on for Solitude. You can download it below. Four 12x12 papers, five elements, all fullsize. PU/s4H.